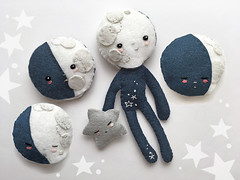 I've been creating some new felt doll patterns for you to sew and enjoy! They are lots of fun to make and I hope you will love them as much as I do.
Here is Little Moon and Starbaby, Little Moon has 4 changeable Phase faces! I've always loved the moon in all of it's phases and this little one makes me smile.
I know you were DYING to stitch up some Calavera skeleton dolls for Day of the Dead this year! These two are ready to dance and have some spooky fun.
Have fun stitching up a new little friend!